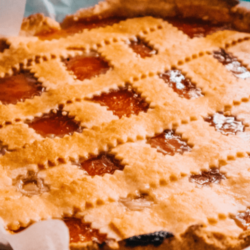 (NAFB) – As American consumers finalized their Thanksgiving menus, they likely found out that their apple pie deserts will cost a little more this year.
The USDA says shoppers will pay about $7.32 for the ingredients, more than half of which is the cost for apples, which is $4.22. The same pie ingredients cost approximately $6.75 last year, which means the total cost this year is 8.4 percent higher than 2020. USDA says the cost increase is driven by the price of Granny Smith apples, which increased to $1.41 per pound this year compared to an average of $1.26 last year.
Sugar, eggs, butter, and lemons also increased in price since 2020, while flour prices dropped over the same period. If the apple pie is served a la mode, add in an additional 31 cents per scoop, the same price as last Thanksgiving.
While USDA used price points from October, the actual cost may decrease if retailers offer holiday discounts.