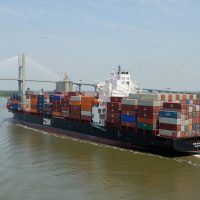 An independent report says a lack of funding for infrastructure improvements could put more than $72 billion in additional GDP and 77,000 new jobs at risk.
The report by Agribusiness Intelligence was commissioned by the Department of Agriculture's Agricultural Marketing Service.
The study examined three scenarios that included potential impacts of reduced investment for U.S. waterways, maintaining the status quo of less than two percent growth, or increased investment of $6.3 billion during the next ten years.
Currently, appropriated funds, which are considered maintaining the status quo, do not enable the U.S. Army Corps of Engineers to keep pace with barge-volume traffic, or growth and infrastructure maintenance needs.
As a result, the percentage of vessels delayed on all waterways has increased from 35 percent in 2010 to 49 percent in 2017, which, in turn, adds to the total shipping cost.
A spokesperson concludes:
"The U.S. inland waterways infrastructure needs major rehabilitation and construction to restore it to its full capability, to forestall major disruptions, and provide opportunities for growth."