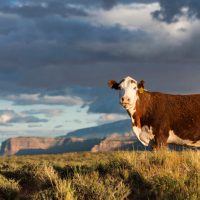 Just ten years after its inception, the Beef Checkoff-funded Masters of Beef Advocacy program celebrated its 15,000th graduate in August.
The program was created to equip and engage beef industry advocates to communicate about beef and beef production.
It is one of the strongest beef advocacy efforts in the industry.
A self-directed online training program managed by the National Cattlemen's Beef Association, a contractor to the Beef Checkoff, the program requires students to complete five lessons in beef advocacy.
The program has also been made available via digital download to allow agriculture educators, state beef organization representatives and other beef industry and youth leaders to incorporate the modules into their curriculums.
Ryan Goodman of the National Cattlemen's Beef Association says the program has evolved "to become a key tool and support system" for beef industry advocates.
The program is open to everyone, and there is no cost to participate.
To enroll or find out more about this checkoff-funded program, go to MastersOfBeefAdvocacy.com.