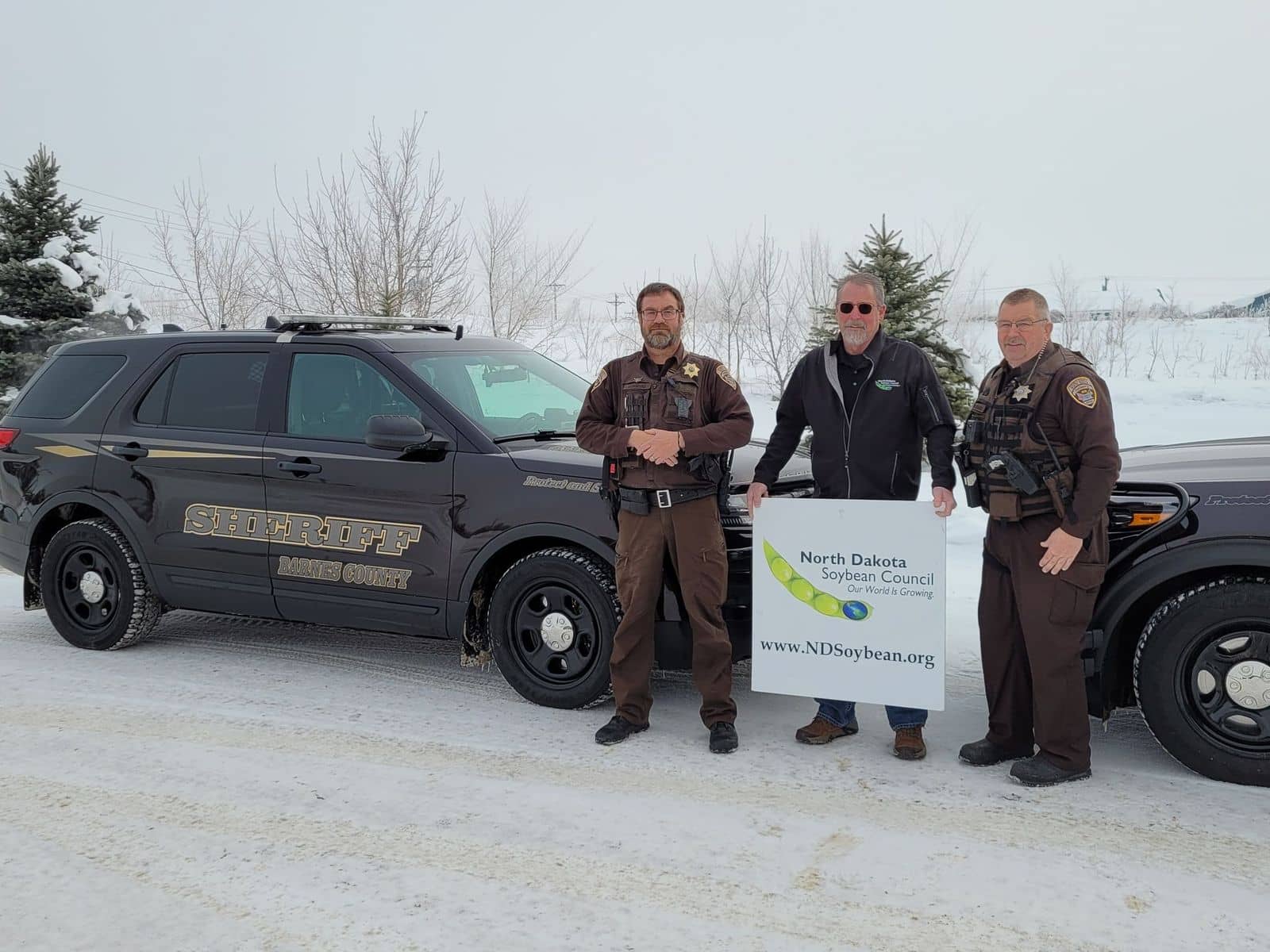 FARGO, ND (ND Soybean Council) —North Dakota and Barnes County farmers, through their soybean checkoff dollars, are giving back to local first responders this winter while promoting soy-based innovation at the same time. In January, the North Dakota Soybean Council (NDSC) provided a grant to the Barnes County Sherriff's Department for the purchase of Goodyear soy-based tires for two of their squad cars.
"We are a small department with a limited budget, so this grant helps us out a lot when we can save some money on larger purchases, like tires," states Emma Nelson, office deputy with the Barnes County Sheriff's Office. "Quality tires are a necessity for our department's vehicles, as they need to be robust enough in design in order to handle the demands and operating conditions that our patrol vehicles often encounter."
The NDSC is providing grants, up to $1,000 per organization, for the purchase of Goodyear soy-based tires for first responders across the state. The board wants to give back to their communities, while also supporting the various uses for soybeans.
"Many of us have had that horrifying moment where we've needed first responders, whether it be medical emergency, accident, fire or crime," says Rob Rose, NDSC vice chairman and soybean producer from Wimbledon. "This soy-biobased tire promotion is a way for the North Dakota Soybean Council and all soybean farmers across the state to say 'Thank You' to our dedicated, brave, and selfless first responders."
Since 2017, Goodyear, supported by United Soybean Board soy checkoff investments, has released seven lines of tires with soybean oil compounds. The Akron, Ohio-based company has increased its use of soybeans by 73% since 2018, according to the company, and pledged to fully replace all of its petroleum-driven oils with soybean oil by 2040.
"Thank you to the North Dakota Soybean Council for offering this grant program to first responders," says Sergeant Steve Loibl of Barnes County Sheriff's Office. "I haven't gotten stuck this winter since these tires were installed. We appreciate the generosity!"
Soybean production in Barnes County ranked third in North Dakota, with growers harvesting over 11.2 million bushels of soybeans in 2021. Barnes County was ranked third in the United States for planted and harvested acres, with 359,500 acres planted and 356,000 acres harvested in 2021.
"The soy checkoff continues to conduct research and partner with industry to find new ways to utilize soybean oil," says Shireen Alemadi, NDSC outreach and education coordinator. "With these grants, we're able to help the promotion of our soybeans, but most importantly help our community, which is very rewarding."