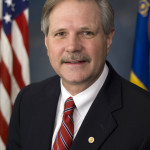 (NDAgConnection.com) – At the North Dakota Farm Bureau annual convention, Senator John Hoeven outlined his efforts as the lead Republican on the Senate Agriculture Appropriations Committee and a senior member of the Senate Agriculture Committee to:
– Gather feedback from North Dakota farmers and ranchers as work begins on the next farm bill.
– Protect private property rights, including pushing back on burdensome easement policies and the Biden administration's efforts to revive the Obama-era Waters of the U.S. (WOTUS) rule.
"As we start working on the next farm bill, we have the opportunity to support our farmers and ranchers, enhancing the tools available to them to manage their risk and grow their operations," said Hoeven. "At the same time, we are pushing back on efforts that would hinder our producers. The Biden administration is imposing burdensome federal regulations, including an overreaching WOTUS definition, that infringe upon private property rights. Our ag producers know their land and water best, and that's why we are working to instead advance farmer-friendly policies that reflect their long-time stewardship of our natural resources and empower them to continue producing the food, fuel and fiber our nation needs."
Earlier this year, Hoeven hosted Senator John Boozman, Ranking Member of the Senate Agriculture Committee, in North Dakota with local producers and commodity groups to discuss the following priorities for the next farm bill:
– Maintaining strong crop insurance, the primary risk management tool for many producers.
– Improving the farm safety net, including the Agriculture Risk Coverage (ARC) and Price Loss Coverage (PLC) programs.
– Strengthening livestock disaster assistance programs, including the Livestock Indemnity Program (LIP), the Livestock Forage Program (LFP) and the Emergency Livestock Assistance Program (ELAP).
– Cutting red-tape and ensuring programs are farmer-friendly.
Hoeven recently joined Senators Mike Rounds (R-S.D.) and Kevin Cramer (R-N.D.) in introducing the Natural Resources Conservation Service (NRCS) Wetland Compliance and Appeals Reform Act. This legislation would protect private property rights by safeguarding farmers, ranchers and landowners from the bureaucracy of the NRCS and empowering them to make the best decisions for their land. Specifically, the bill would:
– Prohibit NRCS from entering into permanent easement agreements, only allowing termed easements.
– Prevent certain compliance penalties for newly determined wetlands from being imposed retroactively.
– Place the burden of proof on NRCS, rather than the landowner, to prove a violation.
– Require NRCS to go through notice and comment rulemaking for conservation compliance regulations, blocking the practice of interim rulemaking.
– Update and reform the NRCS appeals process to ensure fair treatment of farmers and landowners.
Hoeven also helped introduce legislation to comprehensively reform federal permitting and project reviews. Among other priorities, the bill would codify the Trump-era definition of WOTUS under the Clean Water Act, ensuring private property rights are protected. Hoeven previously supported the replacement of the 2015 WOTUS rule, following his efforts to defund the Obama-era rule in 2016 and 2017 and prevent its implementation.