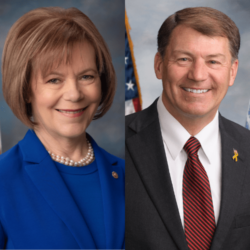 WASHINGTON, D.C. (NAFB) – Senators from South Dakota and Minnesota launched a bipartisan, nationwide effort to protect consumers and cattlemen from what they call "anticompetitive practices in the beef processing market."
South Dakota Republican Senator Mike Rounds says he and Minnesota Democratic Senator Tina Smith are inviting members of Congress to join them in signing an open letter to the U.S. Department of Justice.
Rounds says they're asking the DOJ to examine whether the control large meatpackers have over the beef processing market violates U.S. antitrust laws and principles of fair competition.
Rounds says consumers should be standing alongside cattle producers in the request to get more information about how the current cattle market is operating.
Rounds says he and Smith encourage state leaders and organizations to join them in asking for the DOJ investigation. So far, at least two cattle groups with South Dakota members are applauding the request for a DOJ investigation.
R-CALF USA has launched a nationwide, 10-day campaign to get 200 members of the Senate and House to join Rounds and Smith by adding their name to the bipartisan letter.