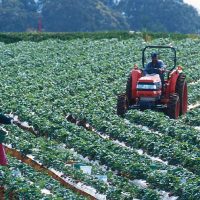 Alltech has launched a survey to gather insights into the professional landscape for women in agriculture.
Announced Tuesday, the survey aims to collect feedback about the barriers that impede progress, and to identify the resources needed to ensure workplace equality.
The survey is open to all sectors of agriculture, and the results will be revealed at the Women in Food & Agriculture Summit this December in Amsterdam.
Alltech CEO Mark Lyons says:
"We hope to gain a better understanding of the challenges facing women in ag and identify opportunities for growth."
Lyons says the industry needs to make sure "young people see themselves represented and can envision a future career in the industry." 
Alltech has partnered with AgriBriefing to conduct the survey.
Women and men in agriculture are encouraged to participate in the survey that will contribute to global conversation about gender equality in agriculture.
A link to the survey can be found online at Alltech.com/news.
---
Photo by USDA ARS