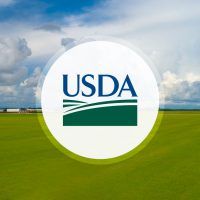 Monday at 11 am, USDA, after resurveying acreage, estimated  that farmers planted 90 million acres of corn and 76.7 million acres of soybeans. Although that's a drop for both commodities from the June report, which estimated 91.7 million acres of corn, it is significantly higher than the average trade analysts guess.   80 million acres of soybeans were planted according to USDA. Traders had expected USDA's to estimate corn-planted acres at about 88 million and soybean acreage to rise to just over 81 million.
The nation's corn crop is expected to total 13.9 billion bushels, a 4% reduction from 2018. Soybean production is estimated at 3.68 billion bushels, a cut of 19% from 2018. USDA projected declining yields for both crops this year: 169.5 bushels per acre for corn (a 6.9 bushel drop from 2018) and 48.5 bushels per acre for soybeans (down 3.1 bushels).
According to data from USDA's Farm Service Agency, nearly 20 million acres of prevented planting was reported to USDA including 11.2 million intended corn acres and 4.3 million intended soybean acres. South Dakota reported the largest total of PP acres (3.86 million) as well as the highest totals of corn (2.8 million) and soybean (850,864) acres. Illinois reported the second largest acreage total at 1.5 million acres.