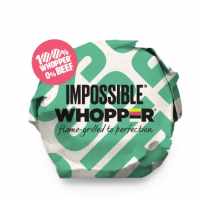 Burger King, the fifth-largest fast food chain, is getting into the plant-based alternative protein market. 
Burger King, working together with Impossible Foods, announced they'll be selling what's called the "Impossible Whopper," a plant-based version of the company's most famous sandwich. 
A Drovers' Report says Burger King will start selling the new offering at 59 restaurants throughout the St. Louis area. 
If the pilot project in St. Louis is successful and sales justify it, the plant-based burger could make its way into the more than 7,000 locations around the country. 
Burger King is the latest fast-food chain to start selling a plant-based meat alternative. 
However, they aren't the only restaurant chain that's been looking into the possibility. 
In recent years, other restaurants have partnered with companies like Impossible Foods and Beyond Meat. 
Carl's Jr. is currently the largest restaurant to sell a plant-based burger after it started selling a Beyond Meat product called the Beyond Famous Star in more than 1,100 locations. 
TGI Friday's started selling plant-based Beyond Meat Burgers in January of last year.
---
Photo by Burger King