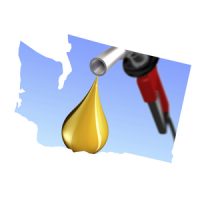 Legislation in Washington state would launch a low carbon fuel standard beginning in 2021. 
Applauded by the National Biodiesel Board, the legislation passed the Washington House this week. 
The Clean Fuels Standard is designed to reduce greenhouse gas emissions from transportation fuels ten percent below 2017 levels by 2028 and 20 percent below those same levels by 2035. 
Supporters say the program will play a significant role in meeting the state's overall greenhouse gas emissions reduction goals. 
NBB Director of State Governmental Affairs Shelby Neal calls the legislation "a great step forward for the environment, consumers, and green industry in Washington State." 
While the bill text fails to mention ethanol or biodiesel, NBB says to meet state greenhouse gas emissions reduction targets, Washington State will need to increase use of fuel alternatives such as biodiesel and renewable diesel. 
Historically, biodiesel consumption in Washington state has been relatively low compared to the rest of the nation. The legislation has yet to be introduced in the Washington State Senate.
---
Image: BBI International