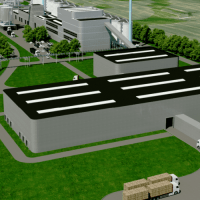 JAMESTOWN, N.D. (NewsDakota.com) – New Energy Spirit Biomass Refinery, LLC plans to build, own, and operate a biomass refinery in Spiritwood Energy Park near Jamestown.
New Energy Blue, LLC owns the project company.
"The refinery is expected to annually produce 16 million gallons of cellulosic ethanol and 109,000 tons of lignin pellets from 230,000 tons of crop residue," the company states. "It will convert locally harvested wheat straw, barley straw and corn stover into sugars, and ferment the sugars into cellulosic ethanol for renewable automotive fuel, while separating out the lignin for offsite renewable energy production. Other outputs are a biogas for producing process steam and a potassium-rich nutrient for fertilizing farm fields."
The company states that they will give farmers a second source of revenue while also improving their soil conservation.
"Our biomass refinery businesses can add $15 to $30 million annually back to the local farmers and aggregators for collecting and transporting 30-50% of the grain straws and corn stover left on the field after harvest. New revenue to the farmer can be as much as $30 per dry ton of biomass before transportation."
The company estimates the project will create around 400 or more construction jobs for 24 months, 100 full-time jobs with 42 at the refinery, and generate around $80 million in annual revenue with most being paid back to the local community.
"The New Energy Spirit Biomass Refinery is expected to attract government, industry, and financial leaders from around the world to witness and learn a new way of making a difference by making clean energy. New Energy Blue is already exploring feasibilities of other sites in North Dakota and neighboring states with plans to scale-up two times from the Spirit project to large commercial refineries like this across North and South America, and then the world."
The announcement follows the heels of the recent news that the Soybean Processor Plant agreement had been terminated in July.
Photo: New Energy Blue